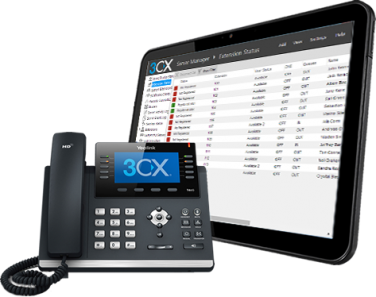 Let's start talking
reduce costs and increase agility
The award-winning, open standards, Windows-based VoIP PBX that provides enterprise class features at a fraction of the cost.
"3CX Phone System is a rock solid and featured packed product but what makes it really stand out from the crowd are the cost savings"
Break Free with 3CX Phone System from Core Office IT
Break free from expensive proprietary phone systems and move up to an open standard IP PBX that increases productivity of employees and IT staff, while costing much less.
Evolve your communications by enabling employee mobility: Calls to and from your extension can be made and answered seamlessly from anywhere via your iPhone or Android smartphone, whilst voice mail and faxes can be received by email.
Connect your national or global offices and re-direct local customer service numbers via the internet to your phone system at negligible cost.
3CX Phone System for Windows is an award-winning IP PBX that completely replaces your proprietary PBX, supports standard SIP soft and hard phones from any vendor, VoIP service providers and VoIP gateways to connect traditional PSTN lines.
Add extensions or lines by adding standard SIP telephony equipment and save on consultants' fees because of 3CX's easy to use web-based administration.
Overcome the limitations of outdated hardware-based PBX systems, reduce costs significantly and add advanced communications features that will make your company more efficient and competitive!
Advantages of a 3CX Phone System from Core Office IT
Costs less to buy and expand.
Greater return on investment.
Use existing hardware and make huge savings.
Hardware and vendor independent – no vendor lock in.
Better fault tolerance through easy backup of your PBX.
3CX Phone System is more scalable than hardware PBXs.
Better integration with other business applications.
Easily build voice applications that increase productivity.
For further information you can download the 3CX Phone System brochure or 3CX Datasheet
If you are interested in finding out about how Core Office IT can help you with a new phone system or unified communications platform please get in touch
Contact Us Now
Robust, state of the art and excellent value IT solutions that improve the performance & efficiency of your IT system.